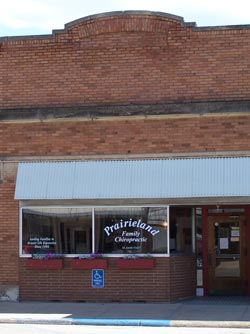 Our affordable, family friendly practice has been serving the people of Rockford, Mason City, Charles City, and the surrounding North Iowa area since 1986. We care for people of all ages from newborn infants all the way through to our most "seasoned citizens".
At Prairieland Family Chiropractic we offer many unique services. Our doctors deliver excellent results with safe and gentle traditional chiropractic adjustments. Nutritional counseling utilizing Standard Process© whole food nutritional products is available. NeuroEmotional Technique and SacroOccipital Technique are unique chiropractic techniques used in our office that help our doctors address a myriad of complicated conditions. Affordable payment and family plans that fit almost every budget are always available.
Please look around our website and learn more about us. You'll find we're a great asset to your family's health care. To make an appointment, call 641-756-3740.
~Dr. Jeanne Staudt and Dr. Maria Staudt
Dr. Maria presents "Half Hour to Health"
Dr. Maria presents "Half Hour to Health" workshops the second and fourth Tuesday of every month at 6:00pm at Prairieland Family Chiropractic. The first workshop of the month is an introduction to chiropractic, Cranial SOT, and basic nutrition. The second workshop presents information on a different topic every month. Bring a family member or friend and your questions! After the workshop, there will be a door prize drawing for all attendees.